Save

On Group Training

We offer volume discounts for large teams of employees that need ITIL Foundation training.

Package Includes:
Accredited ITIL® Foundation Training
Official ITIL® Foundation Exam
Study Notes
Exam Tips
Practice Exams
Mobile Friendly ITIL® Course
Testimonials
In as little as 2-3 weeks, Thoughtrock's training modules, practice and mock exams prepared me for passing the ITIL Foundation test with flying colors and also gave me a much more hands on and deeper understanding of the ITIL Framework with easy to understand real world scenarios that I can map back to my…

Olon D Zerillo
Simple, seamless, reasonably priced.

Jakub B.
I passed the ITIL foundations exam. However I did not go through the Thought Rock course and hence have no opinion on it. Hence I am giving the 3 star (neutral) rating as I had to put a feedback to publish this review. Regards Deepak Mathur.

Deepak M.
Simple and easy, will definitely come back.

Anonymous
Just want to say that this on-line ITIL course is awesome. I'm reviewing the course before my exam tomorrow and I love the course's ability to navigate through quickly and review the material, very slick and very easy to use, nice work!

Scott Allen, Sun Life Financial
Good value and easy to understand. No hassles. Wish they had other ITIL training courses.

Anonymous
Your ITIL Training Partner
---
Thought Rock presents a more streamlined ITIL business solution. As your preferred training partner for exceptional IT service management, we are pleased to offer convenient, cost-effective professional development and proctored exam services through a secure ITIL voucher program. At Thought Rock, we specialize in ITIL for small companies and large corporations alike, delivering accredited online training and an ITIL foundation voucher system trusted by distinguished business and military leaders like HP, Deloitte and the United States Navy. Thought Rock is certified on behalf of Axelos by PEOPLECERT as an ITIL® Accredited Training Organization.
Thought Rock Is Trusted By:







Why Choose Thought Rock?
---
Thought Rock delivers more with a complete, interactive and mobile-friendly ITIL business training and certification program, available in over 50 countries worldwide. Through our ITIL training plan, managers may pre-purchase our exclusive ITIL bundle and receive a unique ITIL foundation exam voucher code for every individual package. Ask about our ITIL groups and corporations rate to learn more about our budget-friendly options for your bottom line. Thought Rock gets you certified in less time. We have developed targeted software based on what you need to know now in order to pass your ITIL exam. A voucher system and 100% online delivery make the certification process easier; we are pleased to offer our clients a simplified strategy for success.
"Thoughtrock's training modules, practice and mock exams prepared me for passing the ITIL Foundation test with flying colors".
Olon D Zerillo
Service Desk Manager, KPMG
What to Expect When You Take Your ITIL Foundation Exam
---
A voucher is your unique code which grants access to the ITIL foundation exam at a date and time which is convenient for you. Your ITIL certification exam is administered by PEOPLECERT and is proctored live through any desktop or laptop computer equipped with high-speed internet, Adobe Flash Player, a webcam with microphone and Windows XP or higher. On your test day, scheduled with the use of your ITIL foundation exam voucher code, you will need valid government photo identification in order to begin your test. Candidates have 60 minutes to complete 40 multiple choice questions, and require a mark of 65% or higher in order to be successful. This is a closed book exam.
Request Your Training & Exam Bundle and ITIL Foundation Voucher Today
Ready to get started? Send us an email at
[email protected]
or contact our live, 24-hour customer service support line to request your certification bundle and ITIL foundation voucher today.
CONTACT
Get More with Thought Rock's ITIL Business Solutions
---
Your purchased ITIL bundle may be used any time until its expiry in order to prepare for and write the ITIL foundation exam; a voucher provides the flexibility and convenience to better meet the needs of your customers on your own terms. Your Thought Rock ITIL exam voucher and training bundle includes the ITIL foundation online course, study notes and practice exams, as well as certification through PEOPLECERT. When you purchase your 8- module series and 2 practice tests, you will also receive your ITIL foundation exam voucher at no additional charge.
Continuous Improvement Strategies for Service Management
---
Like the ITIL method itself, at Thought Rock, we're meeting global demand through customer-focused strategies and better value overall. We live in an increasingly connected marketplace, in a time of rapid technological change. At Thought Rock, our team has developed, in conjunction with some of the foremost experts in the industry, a curriculum for the digital age offering timely, relevant content for today's business world. In accordance with the ITIL principle of Continual Service Improvement, we afford our clients a convenient plan of study and flexible ITIL voucher system ideally suited to adapt with the changing needs of your consumer base.
Save Time and Money with Thought Rock's ITIL Exam Voucher Volume Discount
---
A Thought Rock ITIL exam voucher offers an accessible, affordable solution for corporate IT service management training. A pre-paid ITIL voucher allows the recipient to book their test date with PEOPLECERT anytime within five months of purchase. When ordered by supervisors training their employees in ITIL, groups benefit from our volume discount and a centralized administration strategy. Through a contemporary training plan and access to global standardized testing, we're offering a thoroughly modern look at ITIL for small companies, large businesses and industry leaders like you, 365 days a year, worldwide.
ITIL Foundation Voucher Group Rates Available
---
We deliver ITIL solutions for small companies and large enterprise by way of a straightforward training system built on a common vocabulary and a framework employed around the world. Based on the principles of Service Strategy, Service Design, Service Transition, Service Operation and Continual Service Improvement, ITIL is known for its recognized international guidelines and IT service management best practices, and for improving both effectiveness and efficiency across the industry since the method was developed by the U.K. Government over 25 years ago. Ask us about our exclusive volume discounts on your course pack and ITIL exam voucher purchase today.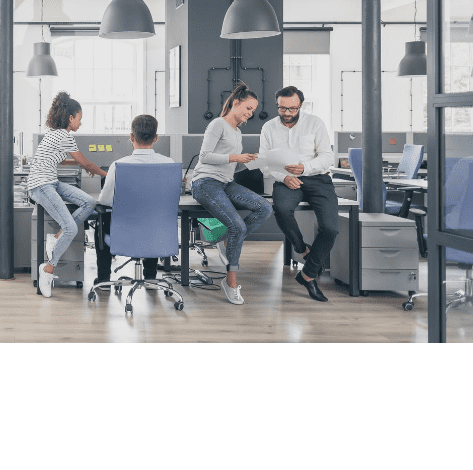 Use Your ITIL Exam Voucher Anytime, Anywhere
Your Thought Rock ITIL foundation voucher is your ticket to a more flexible certification process online from virtually anywhere in the world.